Hydrotherapy Rockingham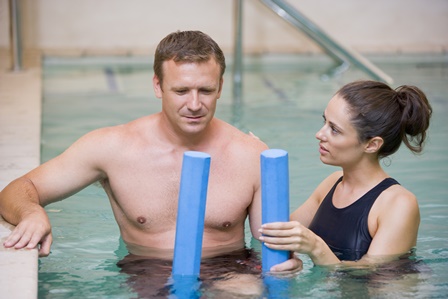 Hydrotherapy at Grange Physiotherapy in Rockingham is run at the Aqua Jetty in Warnbro.
These sessions are supervised by physiotherapists and are rebatable from private health funds. Please contact Grange Physiotherapy clinic for current private fees. There are casual rates and discounted 10*sessions rates.
Hydrotherapy is a wonderful way to exercise gently and with support. If you have pain this can be the ideal environment to start your rehabilitation. Hydrotherapy pools are heated at between 32-34 degrees and use the buoyancy of the water to enable assisted movement. Water can also be used to provide resistance work. At Grange Physiotherapy you will be assessed on land at the clinic by one of our qualified physiotherapists. A specific individualised program will then be organised and in the pool, you will be guided through this program under supervision. We use specific equipment in the pool to adjust each exercise for your needs.
You will need to book at the clinic if you want to attend hydrotherapy. Once your assessment has occurred, you will be booked into a hydrotherapy session. When you arrive at the pool, the reception staff will direct you to the pool. Do not enter the pool until the physiotherapist has arrived. Should you be unable to attend, we require 8 hours notice for cancellations or changes in appointment to avoid being charged for the session. There are showers available on site. You do not need to be able to swim to attend hydrotherapy, as most exercises are done with your head above water, and you have the ability to stay in the shallow end. Please let us know if you have any concerns. If you have reading glasses, please bring them along in order to read your written laminated exercise program.
You will need to bring with you:
Towel
Swimming costume (or equivalent)
Sandals/thongs
Reading glasses (if necessary)
Change of clothes (if necessary)
Water bottle
You may feel tired and drained after your first hydrotherapy session. This is normal. You may also have increased pain due to your body not being used to the new exercises. Make sure you drink plenty of water and rest after your first session. This should improve after the first few sessions.
We hope you enjoy your aqua exercises with Grange Physiotherapy!