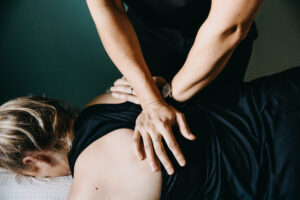 At Grange Physiotherapy, we provide a wide range of physiotherapy services for several conditions including spinal pain, muscle and joint pain, sports injuries, scoliosis, headaches, orthopaedic conditions, arthritis, sciatica, osteoporosis, vertigo, women's health, pelvic floor, and pregnancy care.
Spinal Care Physiotherapy
Most of the population experience spinal pain at some stage of their lives. It is very common due to prolonged periods of inactivity and sustained activities; however we can show you ways to reduce your pain and assist you with exercises to prevent or alleviate it in the future.
Lymphoedema and Venous Insufficiency
Esmond Pok Him Tang has extensive qualifications in lymphoedema treatment and through a range of techniques, assists clients in alleviating symptoms and controlling their lymphoedema or chronic swelling issues.
Orthopaedic Surgery Rehabilitation
If you are recovering from surgery, our clinic is equipped for your recovery! We have an on-site rehabilitation gym and can assess your rehabilitation needs and provide you with a tailored plan within the most efficient time frame to help you on your journey to recovery.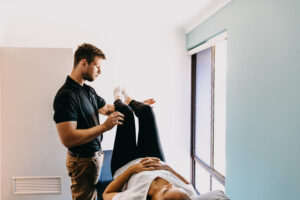 Sports Injuries Physiotherapy
At Grange Physiotherapy, our staff are qualified in treating complex sports injuries at all levels. This may involve biomechanical assessment of the specific injury or pre-season assessments to prevent injury.
We also work with children experiencing growth pain and imbalances, such as muscle tightness and flat feet and can provide soft orthotics to assist in correcting biomechanical issues.
Our physiotherapist Mark has worked as a strength and conditioning coach with national and international athletes and can design your rehabilitation and training program – guiding you from injury to advanced return to sport.

Manipulation
Manipulation involves mobilising joints using a variety of manual hands-on techniques. These techniques can range from gentle rocking motions to solid thrusts that create a "click" in the joint. Manipulation can greatly benefit stiff or locked joints and often provides immediate relief.
At Grange Physiotherapy, manipulation is performed in a safe environment by our experienced practitioners.
Dry Needling
Dry needling, a derivative of acupuncture, is a natural treatment that involves inserting small disposable sterile needles into tissues to reduce pain, inflammation, and speed up recovery. It is used as a complementary treatment alongside other physiotherapy interventions and can be highly effective in promoting an optimal environment for recovery. At Grange Physiotherapy, dry needling is performed by our experienced physiotherapists who have extensive training in this area.
Postural/Biomechanical Assessment
Posture assessment is crucial for understanding your problem and the cause of your pain. Many injuries and musculoskeletal pain arise from poor biomechanics, so analysing how you move provides us with a thorough understanding of any issues you may have.
Through identifying postures that may require management, and suggesting corrective measures, our highly trained Grange physiotherapists can develop strategies such as body awareness training, exercise and education to address any issues and provide you with techniques to reduce your pain at home.
We look forward to enhancing your wellbeing and quality of life through our comprehensive range of physiotherapy and rehabilitation services!