Did you know we offer mobile massage by our Specialist Remedial Massage Therapist?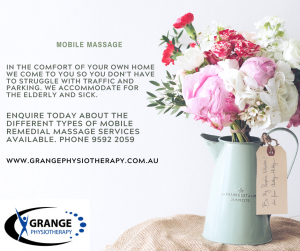 Relax in the comfort of your own home and have a massage therapist come to you. To compliment our in house massage service, we now offer mobile massage. This is a wonderful benefit for those who not only want a massage in the comfort of their own home but who are elderly, sick or pregnant.
Massage offers many benefits including:
Pain relief
Stimulates blood flow
Improves flexibility and posture
Promotes healing and a sense of wellbeing
Assists in the prevention of Injury
Reduces anxiety and depression.
Click on the link below to find out more about Remedial Massage Therapy and the different types of massages we can offer you.
You can book your mobile massage appointment by phoning 9592 2059.