Welcome to Grange Physiotherapy
Grange Physiotherapy, in Rockingham, has been in operation since 1993. Our therapists are university trained registered health professionals. They work to restore function and prevent injury. Physiotherapists treat a range of conditions including muscle and joint injuries, sports injuries, cardiovascular and neurological conditions. As a private client, you do not need a referral to see a physiotherapist. Physiotherapists are qualified to issue sick certificates. Grange Physiotherapists work along side remedial massage therapists and Personal Trainers to rehabilitate our clients to maximum health and maintenance of their health. We offer a variety of services to the community including consultations, matwork pilates, hydrotherapy, remedial massage, physiotherapy gym classes and physical training. We have an on-site gym and studio gym which is set up for physical rehabilitation from illness or injury. We pride ourselves on high quality service to all our Rockingham customers. Our Vision is to be the foremost health provider for lifelong physiotherapy, muscle, joint and rehabilitation Services.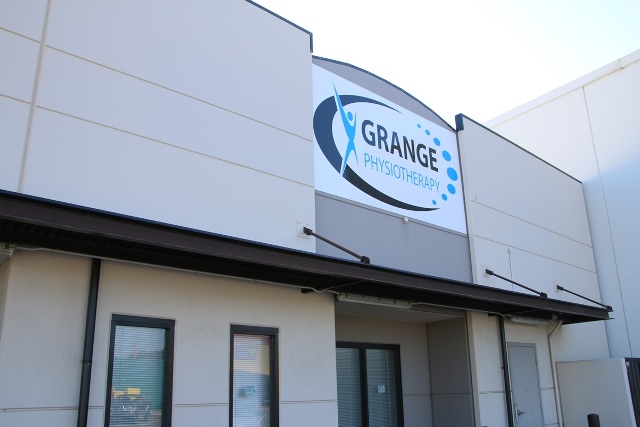 Frequently Asked Questions
Grange Physiotherapy in Rockingham, along with our partner clinic Mandurah Physiotherapy place high value on quality service to our clients, and commitment, excellence and belief in our team. We provide leadership, mentoring and clinical advancement to all our team members. If you enjoy an innovative, cooperative team environment, and have a passion for high quality therapy service, then our career paths may be ideal for you.
Our Clinics are structured on our Vision: "To be the foremost health provider for lifelong physiotherapy, musculoskeletal and rehabilitation Services."
Our Mission Statement is: "To continually exceed our client's expectations by providing top quality holistic physiotherapy treatment and exercise rehabilitation to meet the needs of our community."
Our Core Values include: " Compassion and caring, Integrity and honesty, Excellence and Professionalism"
Our clinics are busy vibrant practices in stages of strong business growth. They offer opportunities for new graduates and middle management positions, with the potential for future partnership. We offer mentoring by experienced practitioners in specialized areas including sports, women's health, vertigo and musculoskeletal.
Do you want to learn how to become an efficient private practitioner with good clinical and retaining skills? Are you are driven by success, hungry to learn a diverse set of advanced therapy skills, and ambitious? This opportunity could be right for you.
Successful applicants will have good work-life balance, extensive PD opportunities, excellent remuneration-with holiday/sick leave, and the potential to be groomed for future management positions within the practices. Whether you are just starting your career or are an experienced practitioner, you want diversity and support in your working environment.
We are able to offer a variety of treatment conditions including musculoskeletal, post-operative Management, Women's Health, Vertigo, Orthopaedics, Sports Injury Management, Workplace Injury Management, biomechanics analysis, and a range of treatments including manipulation, acupuncture, Clinical Pilates, exercise prescription, and digital gait scan analysis.
Grange Physiotherapy offers a range of opportunities for employment. We have an extensive New Graduate Physiotherapy training program. In 2012 our clinic won the Small Business Award for excellence awarded by the Rockingham
Physiotherapy consulting fees range depending on how much experience and education our physiotherapists have. These are based on the Australian Physiotherapy Guidelines and range from physiotherapist to Senior Physiotherapist and Principal Physiotherapist. Our fees reflect the training our physiotherapists have done. Please contact our reception staff for full details on fees for specific Physiotherapists.
There will be an initial consultation fee on your first visit which is approximately 40 minutes and consists of Assessment, diagnosis, treatment, treatment plan, re-assessment and exercise prescription. This is a longer assessment as there are many tests we must do for accurate diagnosis. Standard consultation (following treatments) take 20 minutes and consists of assessment, treatment, re-assessment and progression of exercises. There are different price costs for an initial and standard consultation.
Payment for private consultations is due on the day of treatment. Workers Compensation, 3rd Party Motor vehicle accidents and Veterans Affairs clients are bulkbilled, however the client is responsibility should the insurance company deny liability.
Pension and student discounts are offered. To gain this discount, you need to book your appointment between 10am and 3pm weekdays.
We currently run classes 6 days per week, in the mornings, afternoons and evenings. These consist of Hydrotherapy, Physio Gym, Physical training and Clinical Pilates sessions. Clients need to be assessed by a therapist before entering any of these supervised sessions. Casual rates are available, but much more popular are our 10 class price package which gives you a discount on your rehabilitation. Here you pay for 10 classes up front and use these within a 3 month period. Contact Reception for further details on specific class costs and times.
We have Remedial Massage Therapists on site, who's fees are for half hour or full hour. Please ring on 9592 2059 for further pricing and bookings.
HI-CAPS: If you have private Health cover you may be able to claim back directly using our Hicaps terminal with your Health card. Various health funds have rules and regulations so you may need to check with your specific funds for details on eligibility and rebates.
Grange Physiotherapy in Rockingham provides a state of the art Clinic which delivers exceptional friendly, prompt and professional service providing you with the best in physiotherapy care. Our experienced staff focus on returning you to full function and mobility through hands on therapy and rehabilitation exercise.
Mobile Phones
Out of respect for others, please turn off your mobile phone.
Healing
Remember that healing and recovery takes time and not everyone heals at the same rate. If, at any time during your care, you do not feel that you are responding as well as expected we would ask that you discuss this with your therapist. We want you to get the most from your care at Grange Physiotherapy in Rockingham.
Excellence In Physiotherapy
In order to continue to provide the best, most up to date physiotherapy care available we travel periodically to conferences and seminars. To keep your progress on schedule we will attempt to give you appointments around those times or provide another highly qualified therapist to continue your care.
Financial Arrangements
Fees for private patients are due at the time of service. HICAPS and EFTPOS facilities are available at the front desk for automatic claiming through your private health fund. Workers Compensation, Motor Vehicle 3rd Party and Veteran Affair patient accounts will be sent directly to the appropriate insurance body. Medicare (EPC) clients are required to pay their bill and Medicare will reimburse through efpos.
Referrals
The referral of your family and friends is much appreciated as it assists in their own wellbeing and plays a vital role in the success of our business. We appreciate your feedback and your referrals.
Toilet Facilities
Are located on-site – please ask our front desk staff.
Appointment Scheduling/ Missed Appointments
Your therapist has decided on the best plan for your injury and it will heal best when you keep to this schedule. We ask that you schedule your appointments in advance for best results. Missed appointments will set you back in your recovery, we ask that wherever possible you keep all your appointments. Each consultation time slot that we book is dedicated to one client only. If an appointment must be changed, 8 hours notice is required. This allows other clients in pain the opportunity to take the cancelled appointment. A non-attendance fee will be charged if an appointment or exercise session is changed or cancelled within eight hours, or if the appointment is not attended. This fee is not covered by compensable bodies and must be paid by the client. People who repeatedly miss or reschedule appointments will regretfully be discharged from care as we realise you will not reach your health goals.
We thank you for valuing our time.
Parking
We have car parking for your convenience at both the front and the rear of the building.
Products
We stock an extensive supply of health products in the clinic. We can also order in specialised items on request. Please speak to your therapist regarding your needs.
Hydrotherapy/ Gym/ Pilates
We run regular hydrotherapy, gym and clinical pilates sessions through this clinic at our on-site gym and hydrotherapy off-site. Our rehabilitation gym is also available for independent use for our clients. Please ask your physiotherapist for further details.
The staff at Grange Physiotherapy in Rockingham look forward to working with you in getting your health back on track.
Monday – Friday 8am – 6pm
Saturday: 8 am – 2 pm
Please ring for an appointment. Premium treatment times are early mornings, late afternoons/evenings and Saturday mornings. Please book early if you need to come in during these times.
Grange Physiotherapy in Rockingham prides itself on quality service to the local community. Our Physiotherapists and staff are trained to a very high standard and our Guarantee reflects this:
If you do not understand the cause of your problem after the initial consultation then we will insist on refunding your money in full. No questions asked.
So you have nothing to lose, with our guarantee! Give us a try. If you are requiring physiotherapy, massage or exercise rehabilitation contact us for your earliest appointment. Why be in pain for any longer than necessary. If nothing else has helped with your pain, then we may be able to help. Same Day Appointments.
Ring Now 9592 2059
"To continually exceed our client's expectations by providing top-quality holistic physiotherapy treatment & exercise rehabilitation to meet the needs of our community."
Our Core Values include: Compassion & Caring, Integrity & honesty, and Excellence and Professionalism. Grange Physiotherapy in Rockingham prides itself on quality service to the community. As a local family business with priority to our clients, Grange Physiotherapy situated in the suburb of Cooloongup conforms to all Australian Health standards. Our aim is high quality Physiotherapy services for the Rockingham and surrounding areas. We offer pension and health care discounts. No referral is needed for private patients. We bulk bill for insurance cases whenever possible.