Gym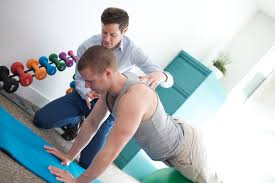 Grange Physiotherapy in Rockingham offers a fully equiped on site gym to cater for a range of training abilities, as well as a separate pilates equipment room and a pilates mat group room. Our highly trained Exercise Personnel and Physiotherapists have experience in Clinical pilates, Sports physiotherapy, personal training and rehabilitation  work. We offer various services in the gym including include clinical pilates, individual instruction, independent usage, Physio rehab gym sessions and physical training sessions. We make sure that you get the most out of your workout in a safe environment which caters to all your specific needs
We believe in keeping our group sessions small and safe, to provide an alternative to the classic gym scene that can be intimidating. Our on-site gym has a range of equipment including pilates machines, strength and endurance training equipment, rehabilitation facilities and a vibration machine.
Physio Gym Sessions
This gym group is supervised by a physiotherapist and may be able to be rebated from your private health funds. It focuses on rehabilitation with a variety of conditions including: injury rehabilitation, osteoporosis, arthritis, Back and Neck Pain, medical conditions and general poor fitness.
The session is tailored to individual needs, wishes and medical history. After a check-up with the physiotherapist to best target your needs, your therapist will guide you through your individual program. All our gym sessions are fun and enjoyable, but you do work hard. On your road to recovery from perhaps a car accident or a work related injury, the physiotherapist uses the gym as an active step in your treatment plan. Your therapist will monitor your progress and make alterations to your program as needed.
Personal Training
These sessions are taken by a physical trainer with extensive experience in injury, rehabilitation as well as powerlifting, bodybuilding, and general fitness. These are not able to be rebated from private health funds. These are economical in value as you train in small groups with intense supervision. It's like your own personal trainer without the one-on-one cost.
General Fitness
A common concern among would-be gym patrons can be: " I just want to tone up – I do not want big muscles". The reality is muscle building is very hard work but we recognise your concern and are happy to provide classes on general shaping –up, which is a combination of flexibility, strength, coordination and improved cardiovascular fitness. Your personal needs will still be addressed and met, as everybody is different and needs personal guidance and an individualised program.
Independent Gym Usage
We open our gym to independent sessions during the time our gym is not utilised for group work. This is designed for clients who know their exercise program and need no supervision. We ensure all clients who will be training independently have a safe structured program designed for their needs.
Further Details
Fees vary for all our group and individual sessions. There are casual costs and discounts for 10 sessions paid up front. Contact our front desk for further details on gym work. All clients are assessed prior to entering the gym. Happy exercising!