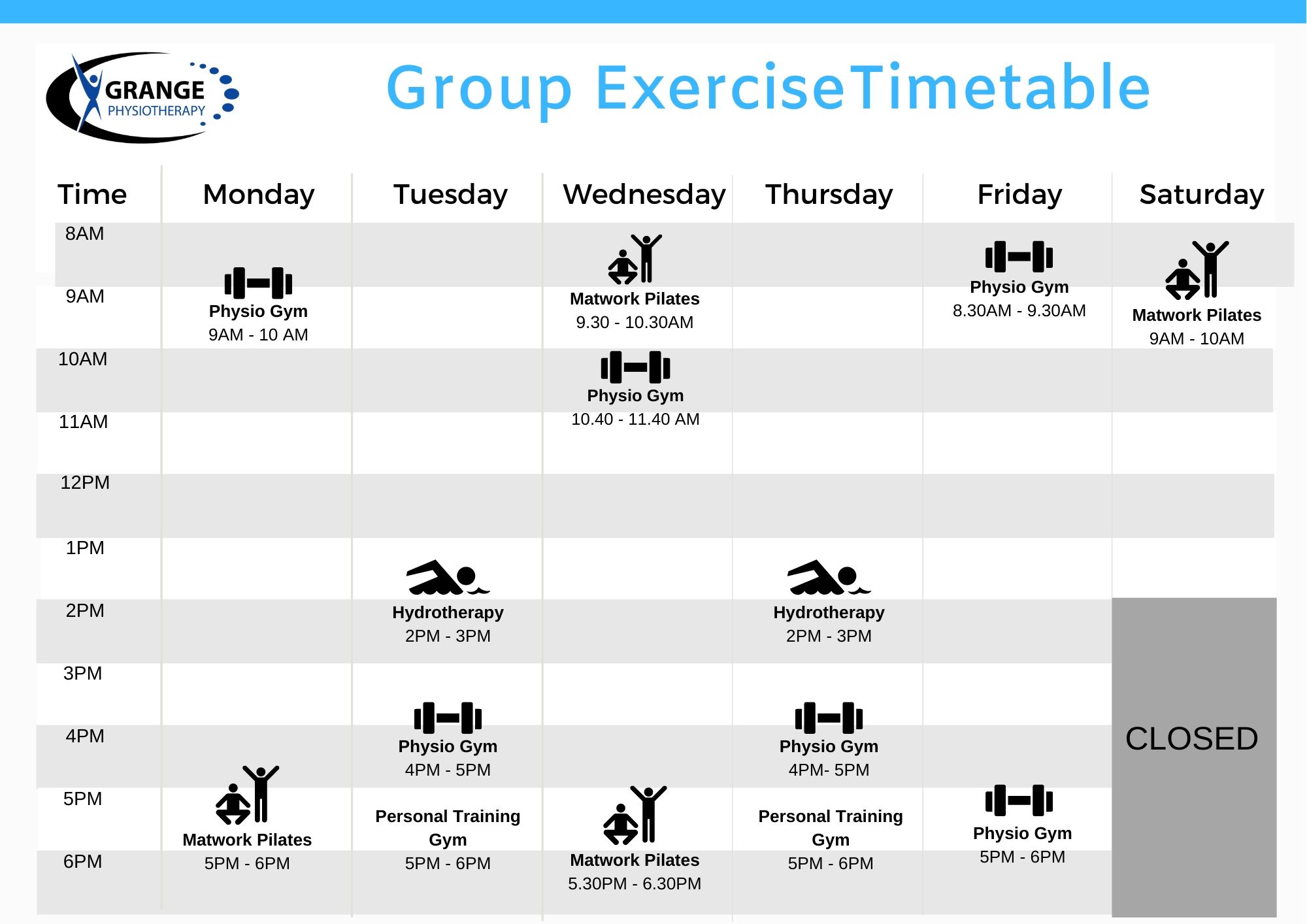 Physio Supervised Gym: Supervised gym sessions in small groups, which include specialized exercises tailor-made to individual needs.  We cater for osteoporosis, arthritis, spinal pain, weight loss, orthopedic problems and general fitness. Run by a physiotherapist and may be claimable through private health.
Matwork Pilates:    The primary focus of the exercises is the awareness of spinal positions, core strength, stability, and flexibility.  An extensive initial assessment by one of our Pilates Physiotherapists/ Instructor is recommended prior to entering the group to ensure good exercise prescription.  These groups are run all year round and small in numbers for maximum supervision. These groups are not claimable through private health.
Personal Training: These groups run by a personal trainer are ideal for those wanting help and motivation with their physical training. Personal Training is not claimable through your private health.
Hydrotherapy: Small individualised group Sessions are held twice a week at Aqua Jetty Warnbro. You will need to bring a towel, reading glasses, bathers (or equivalent) and appropriate footwear. Drinking of adequate fluids is recommended to avoid dehydration. Please arrive 5 minutes early and sign in at the Aqua Jetty reception. Please don't enter the pool until the physiotherapist is in attendance. Maybe rebatable through private health.  You need to be assessed on land prior to entering these sessions to ensure a treatment plan and suitable exercise program.
Studio Gym:  Ideal for those clients who have back or neck issues. Studio Gym are individualised sessions so increased supervision can be given  Studio Gym maybe claimable through your private health.
Independent Gym: We allow independent usage of our on-site facilities for our clients. This allows you to come in on an independent basis, once you are familiar and safe with your exercises. This is only suitable for clients who have been assessed and taught their exercise program. The gym and Pilate's studio are only available for independent use when classes/group sessions are not in progress. Health rebates are not available for independent gym usage.
GENERAL INFO:
Exercise gives maximum results with regular attendance. If you attend intermittently, you may not gain optimally from these sessions. Casual and Prepaid blocks of 10 and 5 are available. Please enquire at reception for current rates. Bookings must be made for all groups to secure your booking. All groups run by physiotherapists may be able to be claimed through private health funds, except for pilates groups. We understand that occasionally you will be unable to attend, and please request 8 hours' notice for changes or cancellations. We have limited numbers for our gym and Hydrotherapy sessions to allow optimum attention from our staff.